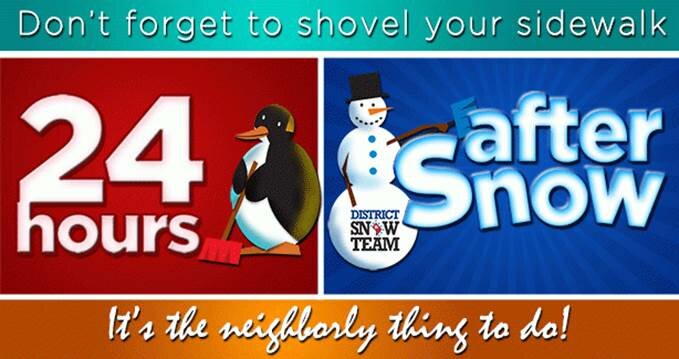 We all know how unsafe snowy and icy sidewalks can be. For elderly or disabled folks, the risk of a serious fall is increased dramatically.
The solution is to clear sidewalks as quickly as possible after a snowfall, and to treat them with ice melter. But that can be difficult if residents are out of town, or are unable to shovel the snow themselves.
To ensure that Foggy Bottom sidewalks are cleaned and treated, the Foggy Bottom/West End Village, the Foggy Bottom Association, and the GW Office of Government and Community Relations have joined together to establish a Foggy Bottom Snow Team. We seek volunteers to help clean our neighborhood sidewalks on snow days.
To become a member of the Foggy Bottom Snow Team, please send your name, email address and phone number to Ken Durham at or call him at (202) 338-1342. Ken will contact Snow Team volunteers after a snow storm to see if they are available, and to ask them to help clean a specific problem area. Assigned areas may include sidewalks in front of houses occupied by elderly residents, or they may include sidewalks that are owned by entities such as the National Park Service, and are therefore not cleared. We will provide shovels and pet-safe ice melter to the volunteers who take on these assignments.
If you are able, DC law requires you to clear the sidewalk in front of your residence within 24 hours of the end of a snowstorm. Failure to clear your walk can result in a fine. But more than that, clear sidewalks help ensure we can all walk safely in our community.
Thanks for being a great neighbor!