The Arts In Foggy Bottom 2010 Outdoor Sculpture Exhibit
A
rts in Foggy Bottom celebrated the return of its award-winning Outdoor Sculpture Exhibit on Saturday, May 1, 2010, with an opening day tour and reception much to the delight of the enthusiastic and large crowd of more of more than seventy people who gathered on the corner of New Hampshire Avenue and I Street to be part of the festivities. Co- Directors Mary Kay Shaw, Jill Nevius and Jackie Lemire welcomed attendees to the biennial exhibit and introduced curator Shirley Koller.
Winner of the Mayor's Arts Award for Innovation in the Arts, Arts in Foggy Bottom has again created a vivid exhibit featuring the talents of seven new and eight returning Washington artists – several of whom were on hand to discuss their remarkable sculptures during Saturday's tour. Koller and artist Sam Noto led tours that stopped at each of the fifteen residencies where a sculpture was installed. Sculptors in this year's exhibit include Richard Binder, Alan Binstock, Mike Brining, Jeff Chyatte, Chas Colburn, Patti Porter Firestone, Nancy Frankel, Seth Goldstein & Paula Stone, Don Herman, Mariah Josephy, Craig Kraft, Philippe Mougne, Sam Noto and Mike Shaffer.
Attendees were eager to learn not just about each sculpture, but also about how Koller handpicked each piece and determined their location in the neighborhood. During the tour, Koller expressed how exciting it was to work with each artist in choosing the most dynamic pieces.

The artists themselves were also pleased to interact with the crowd and share their stories behind each sculpture. Retired engineers and husband-and-wife team Seth Goldstein and Paula Stone created Vinesque, made entirely out of Oriental Bittersweet vines. They were led to this type of design after becoming certified Weed Warriors, enabling them to combine their love of nature with sculpting.
Jeff Chyatte shared how his sculpture Genesis represents connections in society and the desire to build a stronger foundation for future generations.
In addition to increased participation from residents, The River Inn joined the exhibit. This marks the first time that sculptures are on display on a corporate property. Two sculptures from Philippe Mougne (Helios) and Garrett Strang (Incision) have been installed in front of the Inn on 25th Street.
This exhibit is an incredible way to showcase Washington's artists and the power of art in a community which generates conversation and engages residents in the area"
~ Shirley Koller
The exhibit continues until October 23 and artist-led tours will be offered on the 2nd Saturday of each month at 11 a.m. Brochures may be picked up at each sculpture site for a self-guided tour anytime and include a corresponding map.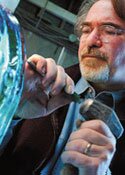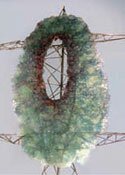 Alan Binstock Quantum LP
"My formal fine arts education began in New York's High School of Music and Art. I've been a yoga teacher, a carpenter, a cabinetmaker, and a Registered Architect. I currently share my passion for sculpture with master planning at NASA's Goddard Space Flight Center. Sculptures like Quantum LP explore the nature of the sacred, the inner life, essentially manifestations of the micro and macro worlds. Compositions like this, when successful, offer a quiet moment of reflection."
e-mail: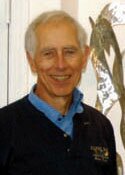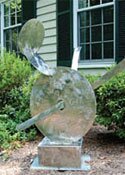 Richard Binder Cosmos
"For more than 40 years I was a physician caring for people and now I have transformed my energies into creating. Metal sculpture has become the vehicle for me to express my continued passion for people. To me this piece represents interstellar forces, planetary juxtaposition and orbital swaths, fixed at one point in time yet conveying a feeling of motion, creation, power, energy and light. The piece is meant to engage, to motivate, to make you smile, to give you a glow- a sense of beauty, a sense of strength. Each of you can interpret this in your own universe."
e-mail: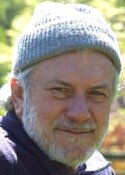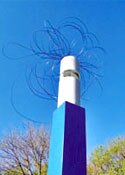 Mike Brining So Blue

"This Work of Public Art Sculpture is for the Community of Washington, D.C."
Seventy percent of the sales proceeds for this piece of art (So Blue) are donated to the American Foundation for Suicide Prevention, a 501 (c) (3) non-profit organization dedicated to research, education, and treatment programs to prevent suicide.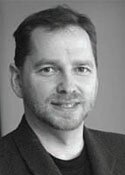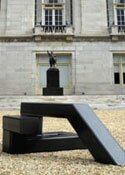 Jeff Chyatte Genesis
For over 20 years Chyatte's dramatic structural forms have invited viewers to touch and experience unique tactile and resonant qualities. His pieces capture moments and design by integrating the relationship of structure and function with the fusion of metals and stone. His inspiration is egalitarianism, which provides the cornerstone of a society whose strength lies in the commonality of the human condition. Chyatte reflects these beliefs by using solid materials, drawn from the earth, that are chosen for their resilient properties, textures, sounds, and hues. Chyatte explains, "to me, sculpture is like speaking another language, expressing ideas and emotions without clear translations, leaving room for interpretation. Through sculpture, thoughts obtain a permanency." His latest creation Genesis represents a minimalistic interpretation of society's interconnectedness and its desire to build an unfaltering foundation for future generations.
e-mail: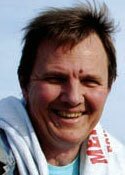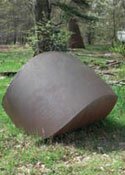 Chas Colburn Tet-COP#16
Chas Colburn creates form thru mathematical progression. Tet-Cap #16 means Tetrahedron Capsule and is #16 in a series of 47 iterations where a capsule is created by virtually associating 3 cylinders in a consistent and progressive manner to a Tetrahedron and then trimming away what ever does not encapsulate space.
Chas received a BFA in Studio Art at the University of Maryland College Park and runs an R&D Lab called 3D Metal Parts, Inc. in Hyattsville, which designs and manufactures complex metal parts for industrial applications and he uses the facility to create sculpture for himself and others.
e-mail: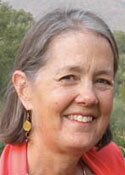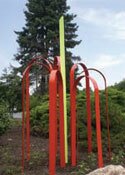 Pattie Porter Firestone Flowering Energy
"I grew up in Atlanta, GA and went to Mount Holyoke College studying with Leonard Delonga learning to weld, and cast bronze. I studied with Elaine de Kooning, Wayne Thiebaud and George Spaventa at the New York Studio School in Paris and other notable teachers through the years. I work mostly in metal creating both outdoor and indoor sculpture. My outdoor sculptures rise directly from the earth and imply movement below the ground – as though the lines of energy connect and energize below the surface, then push up above ground and plunge back into the ground creating a force field. The energy seems pulled from above and then pulled back down to earth. My indoor "Above & Below" series is an exploration of what these lines of energy might be doing below the surface.
e-mail: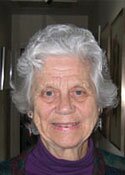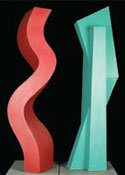 Nancy Franke Conversation1
"The theme for Conversation 1 arose out of my awareness of the growing diversity in our society and our need to get along. Using geometric, abstract forms and continuing my interest in the spatial tensions between them, I created two contrasting pieces made of welded steel – one angular and the other curved, one blue-green and one red. They talk to each other, they complement each other and, indeed, need each other to become whole. I work in a variety of materials, including steel, man-made stone, wood. My work can be found locally in the National Academy of Sciences, Washington, DC, at the Lerner Corporation, Tysons Corner, VA, and at Montgomery College, Rockville, MD."
e-mail: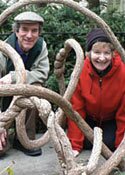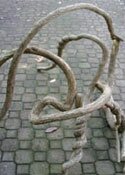 Seth Goldstein | Paula Stone Vinesque
Husband-and-wife team, Seth Goldstein and Paula Stone started making sculptures out of Oriental Bittersweet vines after becoming certified Weed Warriors. While cutting down non-native invasive species from threatened trees in parklands and backyards, they became fascinated by the interconnected shapes, twists and helixes of the destructive bittersweet vine. Vinesque is made from four pieces of Oriental Bittersweet bolted together. Seth and Paula's vine sculptures are on exhibit locally at Brookside Gardens (Wheaton, MD) and the world headquarters of The Nature Conservancy (Ballston, VA); stories about the couple have appeared locally in the Gazette and on WUSA/Channel 9. When not weed whacking, Seth makes kinetic sculpture machines and Paula is a playwright; they are both retired Ph.D. engineers.
e-mail: |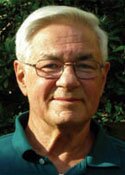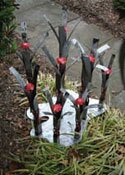 Don Herman Flowers
"For the last ten years, since my retirement, I have been an art student at Montgomery College. I first worked in stone, clay, and plaster, but then fell in love with sculpting in metal, creating over thirty pieces of sculpture in steel, bronze, and aluminum. My sculptures have been selected each year for the Montgomery College annual, student art show. For five of the past six years, the Rockville Civic Center has selected one of my pieces for it's annual "Sculpture on the Grounds." In my business career I worked as a computer system engineer, designing and installing electronic data systems.
e-mail: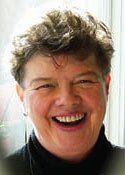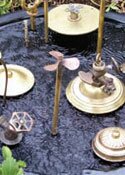 Mariah Josephy Lily Pond
"Lily Pond is the first mixed media sculpture I made for outdoor installation. It consists of a large steel bowl filled with Styrofoam and cement, paint and glue. "Flowers" and "leaves" made of brass hardware are inserted into the surface and a small brass bird "drinks" from the edge of the pond. Like many sculptors, I started out as a painter and printmaker. Shifting to sculpture in the 60s, my work now combines painted and constructed wood, carved figures or heads, and a variety of found objects, including hardware, electronic parts, glass, and bones. Most of my work comments on the relationship between nature and technology. After retiring from the design business in 1996, I served as president of the Washington Sculptors Group until 2001. I have shown regularly in individual and group shows in Washington and elsewhere.
e-mail: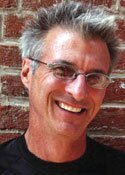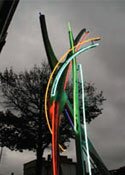 Craig Kraft Lightswept
Over the past 35 years, light sculptor Craig A. Kraft has gained national recognition for his innovative neon light works. Since 2000, Kraft's work has centered on the use of neon and rolled aluminum to transform drawings into 3D illuminated sculptures. His outdoor sculpture Lightswept accentuates movement through light and form, emerging organically from the ground. Kraft has completed monumental commissions for the cities of Rockville and Silver Spring, MD, and is currently working on his latest public work, Vivace, commissioned by the DC Public Library for the new Watha T. Daniel Library. A member of the faculty of the Smithsonian Institution Studio Arts Program for 20 years, Kraft received his Bachelor's and Master's degrees from the University of Wisconsin, Madison. He lives and works in a converted historic firehouse in Washington, DC and his work can be seen online at www.craigkraftstudio.com
e-mail: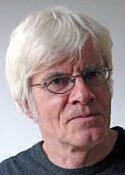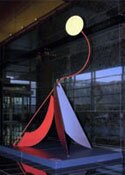 Philippe Mougne Helios
"When I began thinking about Helios, I knew I wanted to create a piece that would reflect energy, elegance and joy, with a twist of mystery. I chose the red and yellow colours to bring warmth to the piece, yellow for the disc, representing the sun, and to create a contrast with the dark base. If a passer-by pauses to look at my sculpture, and forgets for a moment the dreariness of life, I think Helios will have accomplished something." Philippe Mougne studied drawing, painting, and sculpture at l'Ecole Boulle in Paris. He began as a contemporary furniture designer and then went on to create original pieces of furniture. While studying musicology at the University of Provence, he began making string musical instruments. He took up sculpture again after moving to Washington DC in 1995. Since 2003, he has been a member of the Studio Gallery, Dupont Circle, the Washington Sculptors Group, and the Washington Project for the Arts.
e-mail: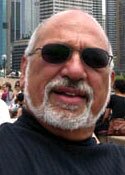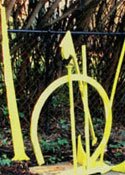 Philippe Mougne Helios
"The Anxiety Series is my latest expression of the effects of material on this sculptor. While I am currently working on three simultaneous series, the Anxiety series is the most complex. While I was scanning piles of scrap metal I began to relate to my graduate school days. The subject "Anxiety" began to manifest itself as my mound of old rusted arcs demanded assembly. "What Is Her Name, Again?" was lying there waiting. A constant anxiety throughout my adult life, but asking "Again" is the insult, I won't do that. What Is Her Name, Again? has not improved my memory concerning names, but dealing with it in this manner freed me of the anxiety so now I can be aware without the self imposed anguish. Now I hope to move forward." (To see other anxieties and the other two series go to www.samnoto.com
e-mail: [email protected]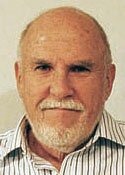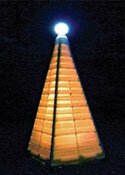 Mike Shaffer Lighthouse/Whitehouse
Mike Shaffer is a sculptor, painter and conceptual artist. His energetic work has been labeled "Pop Formalist, quirky and playful." Born and raised in Cumberland, Maryland, Shaffer created his first sculpture while working on his Master's degree at Southern Illinois University. He traveled extensively to art museums and centers in the United States and recently studied at the Maryland Institute College of Art. Recipient of nine awards, two from the Baltimore Museum of Art, he has exhibited more than twenty-five large-scale public art installations and participated in over 100 formal exhibitions in the U.S. He is president of the Washington Sculptors Group and board chairman of the Hyattstown Mill Arts Project, a nonprofit arts and cultural center in Montgomery County Maryland.
e-mail: [email protected]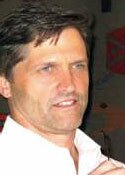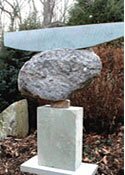 Garrett Strang Incision
Garrett's recent works with stone reflect a relationship to the natural world and our impact on it. A typical work begins with a series of sketches that reveal a contrast of forces and energy inherent within the chosen materials whether stone, steel, and/or wood. In order to craft these visions into original sculptures, he must employ a combination of both current and traditional methods. His works exploit the embodied properties of form, tension, and balance within the medium and juxtaposes these to the immediate surroundings.
e-mail: [email protected]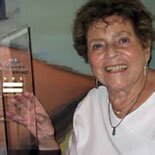 Shirley Koller Curator
Shirley Koller who lives in Washington, DC, is an artist who is actively engaged in blending her talents as a sculptor and curator. The Mayor's Award for Excellence for "Innovation in the Arts" was given for the 2008 Inaugural Foggy Bottom Outdoor Sculpture Exhibit which Koller curated. She also develops and plans art exhibitions for The American Association for the Advancement of Science in their headquarters building in downtown Washington, DC. She recently showed Six Sculptures in the atrium lobbies of buildings at Tysons Corner, VA Galleria.
e-mail:
As you tour this exhibit be sure to see Gallo Grande by internationally recognized sculptor Craig Schaffer at 912 ½ 25th Street, NW. The sculpture remains as a permanent installation since our 2008 Exhibit.


The Arts in Foggy Bottom 2010 Outdoor Sculpture Exhibit Tour Map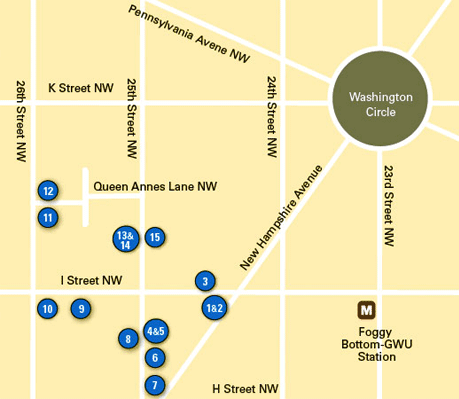 1. Flowering Energy | Pattie Porter Firestone | 842 New Hampshire Ave, NW
2. Lighthouse/Whitehouse | Mike Shaffer | 842 New Hampshire Ave, NW
3. Flowers | Don Herman | 2415 I Street, NW
4. Vine-esque | Seth Goldstein/Paula Stone | 835 25th Street, NW
5. Lightswept | Craig Kraft | 835 25th Street, NW
6. Cosmos | Richard Binder | 809 25th Street, NW
7. Quantum L P | Alan Binstock | 801 25th Street, NW
8. What Is Her Name, Again? | Sam Noto | 826 25th Street, NW
9. Conversation 1 | Nancy Frankel | 2522 I Street, NW
10. So Blue | Mike Brining | 2532 I Street, NW
11. Lily Pond | Mariah Josephy | 919 26th Street, NW
12. Genesis | Jeff Chyatte | 925 26th Street, NW
13. Helios | Philippe Mougne | 924 25th Street, NW
14. Incision | Garrett Strang | 924 25th Street, NW
15. Tet-COP#16 | Chas Colburn | 917 25th Street, NW

Foggy Bottom Outdoor Sculpture Exhibit Tour Schedule
There will be artist-led tours the second Saturday of every month: Tours will meet at 11:00 a.m. at the corner of New Hampshire Ave.& I St. NW
Saturday, June 12 – Paula Stone, tour leader
Saturday, July 10 – Nancy Frankel, tour leader
Saturday, August 14 – Sam Noto, tour leader
Saturday, September 11 – Pattie Porter Firestone, tour leader
Saturday , October 2 – The neighborhood will celebrate Arts in Foggy Bottom/Foggy Bottom Association Appreciation Day with a sculpture tour,
Bar-B-Que, trollery rides, other. (Note: Check this site for time and additional information as the date approaches.)


Guide by Cell
VISITOR INSTRUCTIONS

1. To access the audio tour, dial (202) 595-1187
2. Enter sculpture number, followed by the # key
3. For Curator's comments press 16 followed by the # key
4. To leave a comment, press 0 followed by the # key
Visitors had the option of staying connected through the entire tour or hanging up and calling back later.
Our Appreciation to:
Major Contributor:
Foggy Bottom Association Defense and Improvement Corporation
Participating Property Owners:
William Bodenschatz, Russell Conlan, Douglas Hansen, Bobbie Hertzfeldt, David Hertzfeldt, Susan Lampton, David Lampton, Barbara Maggs, Peter Maggs, Thomas Mallon, Jennifer Mondie, Eugene Mondie, Cleveland Page, Robert Parke, The River Inn, Joann Rorapaugh, Esther Timlin, Steve Timlin, Susan Wallace