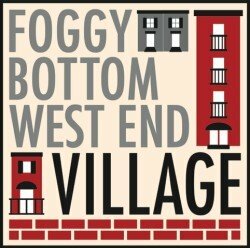 The Foggy Bottom West End Village (FBWEV) has been selected as one of 20 Villages nationwide to participate in a National Evaluation of Villages Feasibility Study, conducted by the University of California Berkeley in partnership with the Village to Village Network Research Committee. The 18-month study is being funded by the Retirement Research Foundation.
The purpose of the evaluation is to launch and test a national system for gathering information describing Villages and the impact they have on their members. Combined data from many Villages is an essential tool for demonstrating the value of Villages to both policymakers and funders. The Evaluation also provides useful information for individual Villages aiming to improve programs or demonstrate their impact on members.
The data to be collected will include: an organizational profile, annual member surveys, new member intake questionnaires, and reporting of services and activities provided by the Villages on a monthly basis.
The criteria used for selecting the participating Villages were to include a variety of Village models, geographic regions, Villages serving diverse groups as well as Villages who had the commitment and capacity to collect data.
FBWEV is a Washington, DC volunteer/membership organization that provides services and social activities to help residents live independently for the long term and is uniquely positioned to participate in this evaluation.
A wealth of data has been collected in FBWEV's 15 months of operation. Since its grand opening in October 2013, the Village has grown to 139 members and a force of 75 volunteers who have provided more than 500 hours of volunteer services to members.
"We are very excited to be chosen to participate in this national endeavor," said Bob McDonald, Executive Director of FBWEV. "Our Village's data will help provide the basis for demonstrating the benefits of belonging to a Village. The broad scope of Village services, including social and cultural events and programs, educational forums, health and wellness sessions, and volunteer services, provides our members with an enhanced quality of life."